Sea Cucumbers! The Oceans vacuum cleaner! This stunning Pineapple Sea Cucumber was sighted on one of our Reef Protection Days when conducting Reef Health surveys for the Great Barrier Reef Marine Park.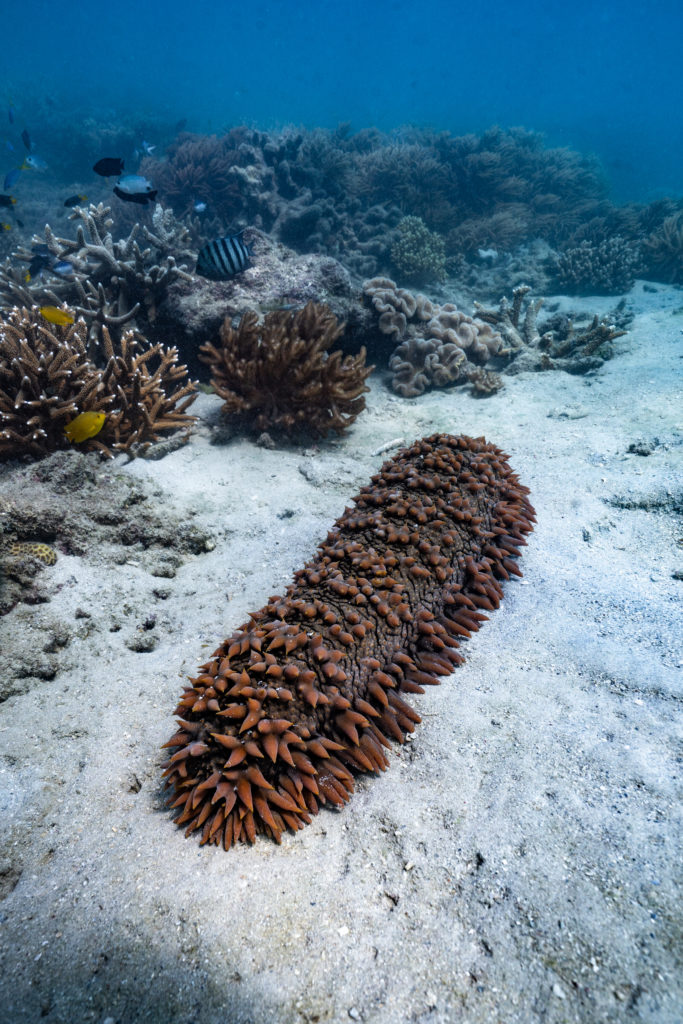 The Pineapple Sea Cucumber is an echinoderm, a group which also includes seastars, brittle stars, sea urchins, sand dollars and sea lilies. Located in sub-tropical waters, sea cucumbers are found all along the length of the Great Barrier Reef.
Reaching up to 70 cm in length and 6 kg in weight, the pineapple sea cucumber is a relatively large sea cucumber. It has a reddish-orange and black colour, usually brighter on the underside, and has many soft star-like projections ("teats") all over the body.
Like most sea cucumbers, the pineapple sea cucumber is edible and is, in fact, a very healthy and promising food. Like all sea cucumbers, it contains a fucoidan, that has antioxidant and anti-inflammatory properties. It is also rich in saponins, this is believed to be good agents to reduce cholesterol levels and also have anticancer properties. More than that, the pineapple sea cucumber contains another compound, which is thought to have the ability to block HIV from entering cells and has, therefore, the potential to be explored for the development of new anti-HIV drugs, especially against some resistant variants.
As a result of these amazing properties, the sea cucumber in many parts of the world has been overfished. Despite having many benefits for humans, its benefits to the ocean system are arguably more important! Despite being a relatively simple animal, these critters filter both sand and water of otherwise abundant nutrients to the coral reef system. So without these filter feeders, it can cause a decline in water quality, leading to algal blooms and predator outbreaks which can contribute to the decline of coral reef systems!
The Sea Cucumber is the perfect example of how everything is connected. Everything on the Great Barrier Reef is linked and human interference can have a knock-on effect on the whole ecosystem. Here at Ocean Rafting, we are doing what we can to monitor and protect the GBR but just as importantly we love to share this incredible world heritage area with you!
Join us for your Whitsunday experience soon!