This week we found this camouflaged little fella hanging out in the reef flats! Epaulette sharks are known to inhabit the shallow waters around the Great Barrier Reef. These small sharks have the ability to "walk" using their pectoral fins, which allows them to move across the reef during low tide. It's a fascinating adaptation that helps them navigate their environment.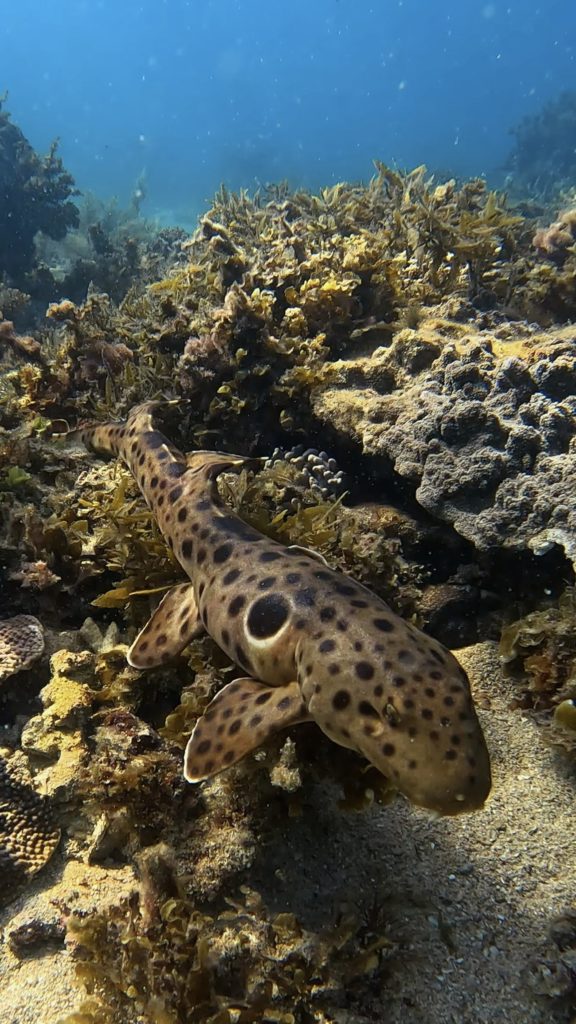 The Great Barrier Reef is home to over 130 species of sharks and rays but heres a few amazing facts about one of our favourites!
Walking Behavior: Epaulette sharks have the ability to move across the ocean floor and shallow reef areas using their modified pectoral fins, which resemble legs. This adaptation is particularly useful during low tide when they might become stranded in tide pools. They use their "legs" to push themselves forward in a manner similar to the way a seal moves on land.
Nocturnal Lifestyle: These sharks are primarily nocturnal, meaning they are most active during the night. This behavior helps them avoid predators and take advantage of the cover of darkness to hunt for prey.
Small Size: Epaulette sharks are relatively small, with an average length of around 2 to 3 feet (60 to 90 centimeters). Their small size allows them to navigate through tight spaces and coral crevices on the reef.
Diet: They have a diet that includes a variety of small marine creatures, such as crustaceans, mollusks, and small fish. Their unique walking behavior allows them to explore different parts of the reef in search of food.
Adaptations to Low Oxygen: Epaulette sharks are well-adapted to surviving in low-oxygen environments. They can tolerate low levels of oxygen for extended periods, which is beneficial when they find themselves in tide pools or other oxygen-depleted areas during low tide.
Reproduction: These sharks are oviparous, which means they lay eggs. The female lays egg cases, also known as "mermaid's purses," in crevices or other sheltered locations on the reef. The eggs take several months to hatch, depending on environmental conditions.
Conservation Status: Epaulette sharks are currently considered a species of least concern in terms of conservation status. However, they could still face threats from habitat degradation, pollution, and overfishing if not properly managed.
Overall, epaulette sharks are fascinating creatures that have adapted in unique ways to their environment on the Great Barrier Reef. Their ability to "walk" and their nocturnal behavior make them an intriguing and important part of the reef ecosystem.