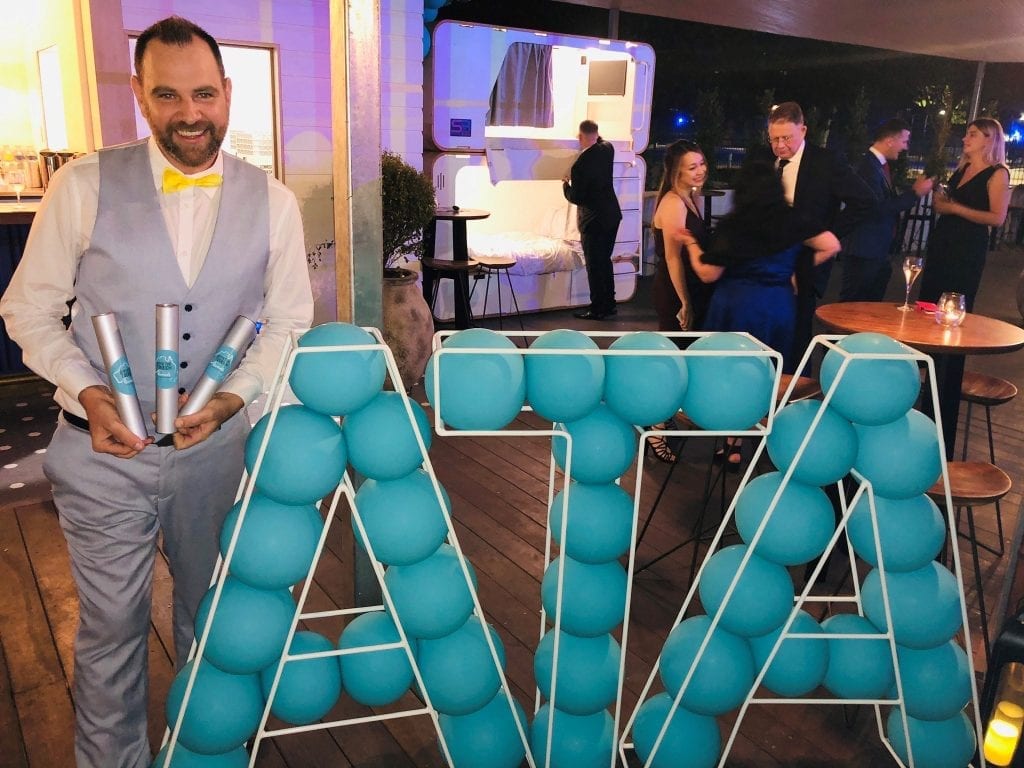 Following on from recent wins at both the Whitsunday and Queensland Tourism Awards, Ocean Rafting has more gongs to add to the cabinet after winning three awards at the 2019 Adventure Tourism Awards last Thursday night.
Now in its second year, the 2019 Adventure Tourism Awards has proved itself a valuable event to showcase outstanding businesses within this important sector across Australia and New Zealand, with businesses both large and small recognised for their achievements across 34 categories.
Ocean Rafting won silver for Eco and Sustainability, bronze for the Best Activity in Queensland and bronze for the Best Activity in Australia. The Whitsundays also won silver for the Best Youth/Adventure Marketed Destination and Ocean Rafting's sister company, Ocean Safari, based in Tropical North Queensland won two silver awards on the night.
Ocean Rafting's Sales Captain, Nathan Fleming, attended the evening which celebrated not only adventure operators throughout the country, but also from the Whitsundays, with this market making a significant contribution to the region.
"We are very proud of not only our team, but of all the other winners and adventure operators, especially the other Whitsunday winners, Whitsundays Sailing Adventures, True Blue Sailing, Prosail Whitsundays, Sailing Whitsundays and Tourism Whitsundays. This is an important market for our industry and it was great to come together and celebrate everyone's commitment to youth and adventure tourism. Congratulations to everyone and thank you once again to everyone for their support," said Nathan.
The event is organised by Adventure Queensland (AQ), the peak backpacking and independent travel industry body for Queensland, who last year identified the need for industry collaboration within the Australian and New Zealand youth tourism sector. Working alongside Backpacker Operators Association NSW (BOA) and the Backpacker Youth Tourism Advisory Panel (BYTAP), the Adventure Tourism Awards provided an opportunity for industry members to come together and celebrate outstanding contribution and excellence.
2018/19 Vice President of Adventure Queensland, Anita Butler said that it was great to see over 350 people celebrating the 2019 Youth Tourism Conference and 2019 Adventure Tourism Awards and support each other's hard work and success.
"The Adventure Tourism sector is a vital part of the Australian and New Zealand tourism offering. These awards are made extra special with the inclusion of 30% consumer voting and the expert individual judging panel weighted evenly for the remaining 70% of final scoring."
"The awards recognise the best of the best in travel agencies, tour/activity, innovation, cultural tourism, sustainability and accommodation. Entrants were judged based on their individual points of difference, unique selling points, customer reviews, business achievements and their links to the Adventure Tourism industry."
"Congratulations to all the finalists and winners of the night. Your passion and commitment for our segment is evident and the achievement is so very well deserved!" Anita said.