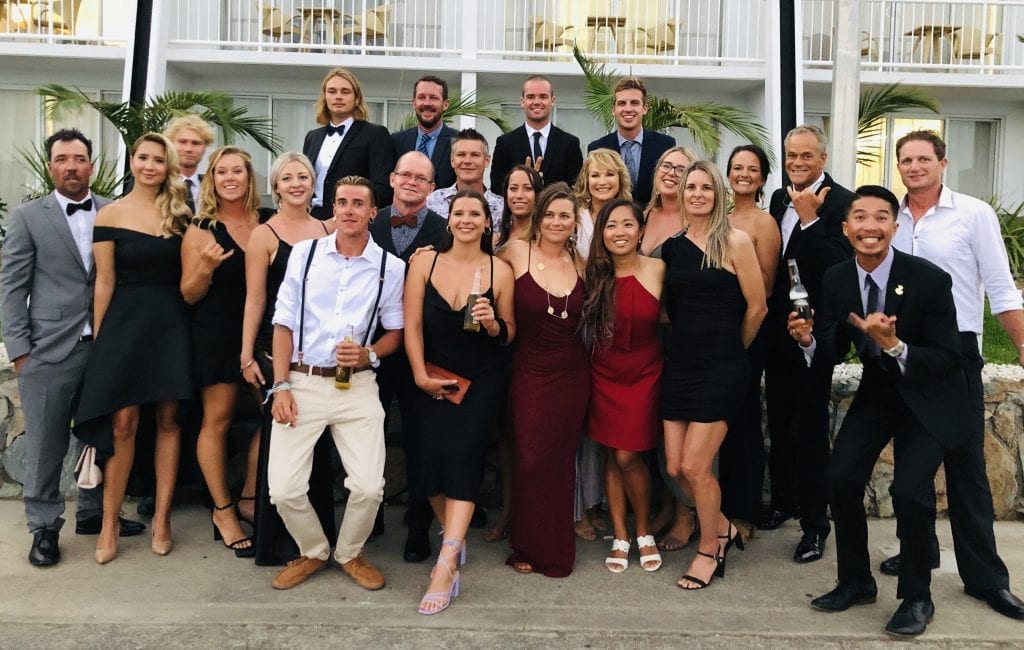 Ocean Rafting, enjoyed success on Saturday night at the glamorous 2019 Whitsunday Tourism Awards held on Daydream Island. Ocean Rafting scored two gongs, taking home the gold award in the Adventure Tourism category, as well as the coveted People's Choice Award at the gala industry awards.
Ocean Rafting owner, Jan Claxton, was ecstatic to receive both awards which was proudly shared with staff on the night.
"We are incredibly excited to have won both of these awards. The Adventure Tourism Award is a true reflection of our product, which offers everyone from backpackers to families, the adventure of a lifetime around the beautiful Whitsunday Islands, surfing the waves and feeling the rush on the boats we have designed especially for this purpose. The People's Choice Award was won based on voting from our guests and industry colleagues and the recognition is a testament to our team and our product, so we couldn't be any prouder," said Jan.
It has been another big year for Ocean Rafting after welcoming its seventh and newest vessel, increasing Ocean Rafting's fleet to seven vessels and offering an additional capacity of 32 guests, bringing the total number of guests Ocean Rafting can now carry up to 206 daily, while still offering personalised service on each boat. Another development in the past year was the launch of Ocean Rafting's new aviation experiences, including the new Fly and Raft package and 60-minute stand-alone scenic flights. The Fly and Raft package offers the best of the Whitsunday Islands and Great Barrier Reef in one day with a 60 minute scenic flight following by an Ocean Rafting adventure.
Ocean Rafting is now in its 22nd year of operation and is recognised as one of the original and most awarded tourism products in the Whitsundays. The company's growth is continuing with an eighth vessel currently under construction.
"Our team is a big part of our growth and what makes Ocean Rafting what it is. As proud environmental ambassadors, they teach our guests through interactive reef interpretation and encourage them to be inspired by nature. Within our team we have accredited GBRMPA Master Reef Guides, Marine Biologists, as well as foreign speaking Eco Hosts," said Jan.
Ocean Rafting has Advanced Ecotourism Certification and is a Green Travel Leader and a Climate Change Innovator. This year Ocean Rafting was entered into the coveted Ecotourism Australia Hall of Fame for being continuously certified for 20 years or longer. There are only 14 operators Australia-wide who have been acknowledged with this achievement, with Ocean Rafting being the only one in the Whitsundays.
"Apart from our team, we would like to thank everyone who supports us, including local agents, industry partners and our guests and we also extend a big congratulations to all the other 2019 Whitsunday Tourism Awards winners on the night," said Jan.
Ocean Rafting operates two exciting day tour options to some of the Whitsunday's most desirable destinations. The Northern Exposure and Southern Lights tours are both fully guided and include an exhilarating ride to Whitehaven Beach and Hill Inlet, pristine snorkelling reefs and guided Whitsunday Island National Parks walks. Ocean Rafting has special permits allowing access to Hill Inlet beach itself, which adds to the uniqueness of the tours, being the only operator offering lunch and time to relax on the famous sands of Hill Inlet.