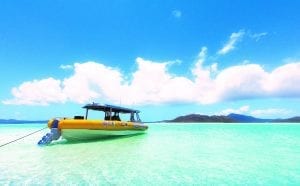 Ocean Rafting has welcomed its newest vessel, bringing the total number of vessels in the popular tour operator's fleet to seven.  Following in the tradition of naming all vessels after well-known songs, the latest addition to the fleet has been named "Black Betty".
The custom-built vessels are specifically designed and suited to the operations and the environment in which they operate and the company's signature adrenalin ride. Increasing Ocean Rafting's fleet to seven vessels offers an additional capacity of 32 guests, bringing the total number of guests Ocean Rafting can now carry up to 206 daily.
Owner Peter Claxton said, "It was just a natural progression for us as we needed more availability and flexibility in rotating the vessels for the maintenance schedule. After 20 years in operation we are continuing to grow and bring new products and packages to the market.  Because we own a range of permits with special permissions, our vessels can visit amazing snorkelling sites, as well as offering the ultimate access inside Hill Inlet.