Eye on the Reef is Ocean Rafting's longest running environmental initiative with our initial engagement in this project starting in 2007. Here at Ocean Rafting, we are proud to hold the Advanced Ecotourism Certification as well as being entered in the Ecotourism Hall of Fame for being certified for over 20 years, one of only 14 operations nationwide to hold this coveted acknowledgement. Eye on the Reef is just one of the many ways we stay committed to sustainable environmental practices as well as educational tourism.
Eye on the Reef is the official citizen science monitoring and assessment program allowing tourism operators and reef visitors to directly contribute data back to the Great Barrier Reef Marine Park Authority (GBRMPA). Eye on the Reef offers four methods of assessment, and Ocean Rafting is involved with all four of them. Below is everything you need to know about these methods as well as how you can be involved when visiting the Great Barrier Reef.
Eye on the Reef Sightings Network.
This is probably the easiest method for any visitor to be involved. All you have to do is download the Eye on the Reef app where you can submit your sightings directly to the Marine Park. This could be anything from a jellyfish to a breaching humpback whale, whatever you've seen, the marine park wants to know about it. To see what we've been seeing, check out the Sightings Network and search for Ocean Rafting's sightings submitted by crew and visitors to get excited about your trip with us to the Whitsundays.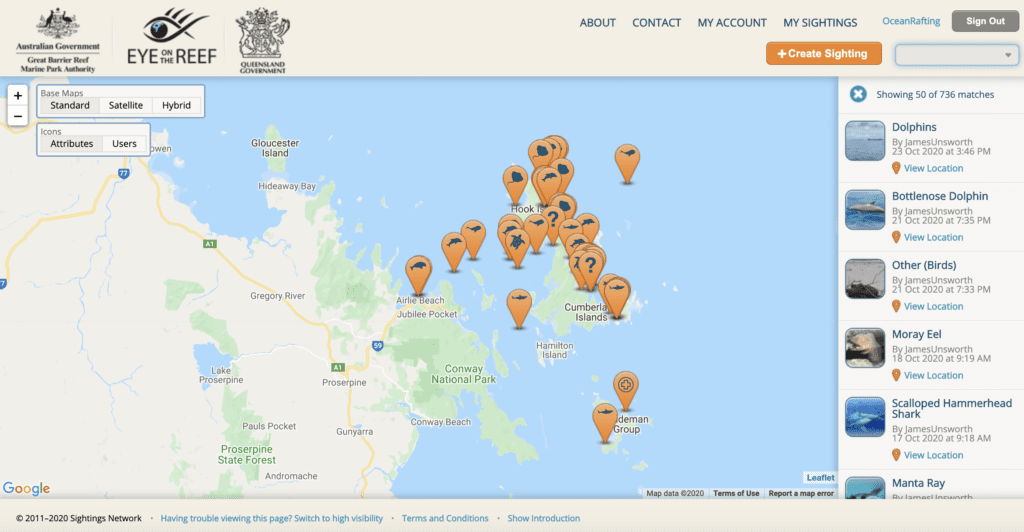 ---
Tourism Weekly
Tourism Weekly represents a successful partnership between marine park managers, tourism operators and researchers. This method trains tourism staff to monitor ONE key location every week. The survey method looks at monitoring change over time. For example, coral bleaching, coral predation, coral damage, coral disease and macroalgae. This allows marine park managers to make informed decisions about sites on the Great Barrier Reef with information supplied by the people that best know these locations. Ocean Rafting has been submitting data on one particular location in the Whitsundays for over 13 years!
---
Rapid Monitoring
The Rapid Monitoring Survey is designed for people with little, to moderate, reef experience who can either snorkel confidently or dive. It enables reef users to record what they see on the Reef and report that data to the Great Barrier Reef Marine Park Authority. One of the strengths of the Rapid Monitoring Survey is it can be used to monitor the same site regularly and get an idea of changes to that site over time. It can also be used to get a basic snapshot of reef health at less frequently visited sites.
The survey can be completed in a short time, and the underwater slate is easy to use, especially for people who may not have a scientific background. That is why this method we use in our citizen science product Reef Seeker. This experience aims to provide guests with a meaningful and memorable experience on the Great Barrier Reef.
---
Reef Health and Impact Survey
Reef Health and Impact Surveys are the most advanced of the survey methods. Combining elements of all the techniques to create the most comprehensive survey method that is used by Marine Scientists and Marine Park Managers to accurately illustrate the state of the reef.
As part of GBRMPA's remaining connected program, 3 crew members were trained to this high standard before conducting almost 30 surveys in one of the bays on Hook Island to monitor change 3 years on since Cyclone Debbie. The crew noted changes both good and bad and this high level of survey ability provided our crew with a greater understanding of our reefs to inform and educate our guests on our tours.