Ocean Rafting achieved national success at the 2017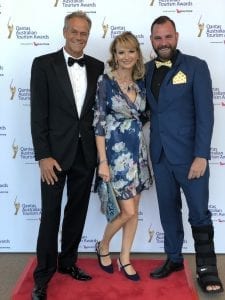 Australian Tourism Awards in Perth on Friday night, winning the gold award for Major Tour and Transport Operator. It is the second year in a row Ocean Rafting has won this highly contested category on an Australian level and follows recent success in the same category at both the Whitsunday and Queensland Tourism Awards.
Nationally, the category had strong competition from six other finalists at the 2017 Australian Tourism Awards, who had each also won the category in their relevant state awards.
Owners Peter and Jan Claxton were ecstatic with their success on the evening. "We really want to thank our passionate staff, who do an amazing job day in and day out and have contributed to the overall success and reputation of the business.  We can't fail to also thank our guests, agents and industry partners and we pass on our congratulations to all of the other winners and finalists, especially our fellow Whitsunday operators."
"We are so incredibly proud of this award, particularly after winning it two years in a row on a national level. As a team, we are consistently working hard to always be innovative and improve the operation and we will continue to invest in the business going forward," said Peter.
It has been a big year of growth for Ocean Rafting, with the arrival of a sixth vessel, the order of a seventh vessel and the company's recent 20th birthday celebrations in October.
"We operate in the one of the most beautiful places in the world, the Whitsundays, and given our special permits, we have the opportunity to showcase one of Australia's most iconic beaches, Whitehaven Beach and Hill Inlet, on a daily basis. Last year was definitely challenging due to the impacts of Cyclone Debbie on our natural environment, but the region has certainly bounced back and is returning to its former glory," Peter said.