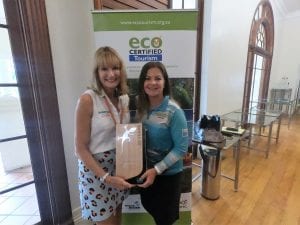 Multi award winning Ocean Rafting has been entered into the coveted Ecotourism Australia Hall of Fame for being continuously certified for 20 years or longer at the recent Global Eco Conference in Townsville.  There were only 14 operators Australia-wide who have been acknowledged with this achievement, with Ocean Rafting being the only one in the Whitsundays.
As one of the nation's first ecotourism innovators, Ocean Rafting has helped to pave the way for responsible and sustainable tourism. In 1997, there were just eighteen certified operators, certified under the National Ecotourism Accreditation Program (NEAP) – the world's first ecotourism accreditation program. Today there are close to 500 certified operators, and the program is still one of only five worldwide that carries Global Sustainable Tourism Council accreditation, meaning it meets a global best practice standard.
Rod Hillman, Chief Executive of Ecotourism Australia said, "The creation of this Hall of Fame has arisen out of a desire to honour and celebrate our 14 certified operators who are the first to reach this milestone and to thank you them for their ongoing support."
Ocean Rafting owner Jan Claxton and Environmental Manager, Sarah Vickery, attended the Global Eco Conference, where they were presented with an award and certificate to recognise Ocean Rafting's commitment to ecotourism over the last 20 years. In addition to receiving the award on stage, Jan and Sarah were also invited to be part of the expert panel to share Ocean Rafting's experience and long-term dedication to responsible and sustainable tourism.
Jan also recently presented at Ecotourism Australia's Masterclass held in Cairns, invited to speak by Ecotourism Australia on the subject "What does ecotourism excellence look like?"
Jan was proud of the company's achievements and the whole team's effort in sharing their passion for the environment. "Our entire team are proud ambassadors for environmentally responsible, ethical, educational and sustainable tourism and feel strongly about their duty in protecting the future of the Great Barrier Reef, adopting environmentally friendly practices into everyday operations. Having received acknowledgment as only one of 14 operators Australia-wide makes us feel very proud to have played a role in doing the best we can on a daily basis to protect the very special environment in which we operate," said Jan.