Advanced Ecotourism Certified operator, Ocean Rafting, has proudly welcomed a new addition to its team of accredited Master Reef Guides. Ocean Rafting Skipper and Eco Host, Toby Lodewijks, has joined his colleagues, Ocean Rafting Master Reef Guide, Skipper and Environmental Manager, James Unsworth, and Ocean Rafting Master Reef Guide and Eco Host, Taylor Chen, undertaking a rigorous selection process and in-depth training and field course to become an accredited Master Reef Guide.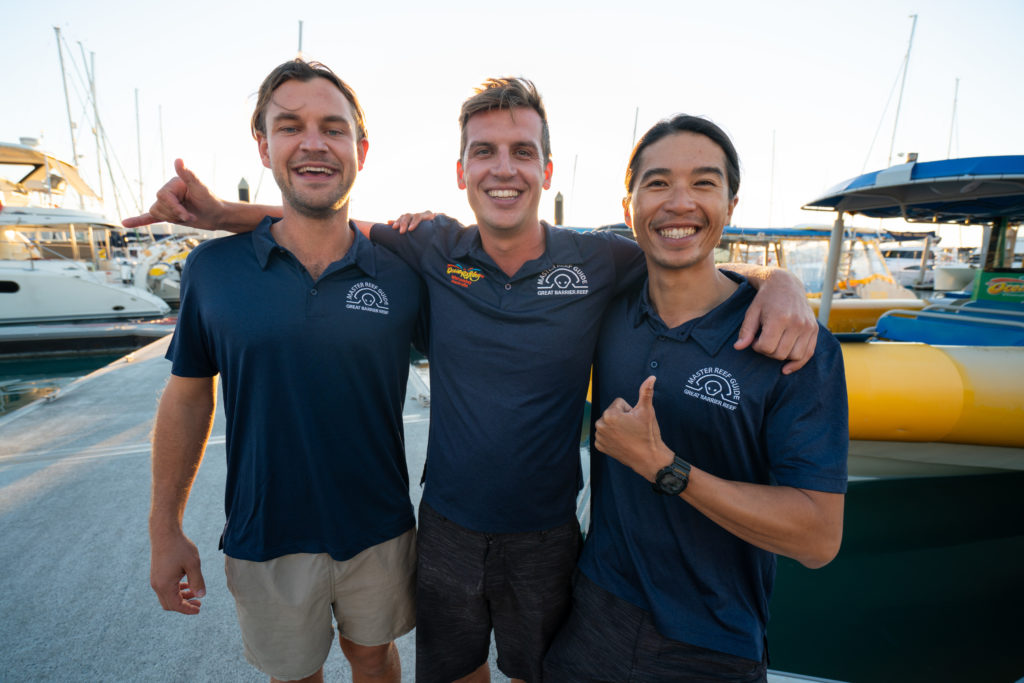 With a team of three Master Reef Guides, Ocean Rafting has the largest team of accredited Master Reef Guides in the Whitsundays.
Ocean Rafting Environmental Manager, James Unsworth, said, "Along with his fellow guides, Toby will now be a part of this special cohort and become another voice of the Great Barrier Reef. Our whole team are extremely proud of Toby for this achievement and Taylor and I welcome him as a fellow Ocean Rafting Master Reef Guide."
Toby was one of 19 trainees in the fifth Master Reef Guide training school, with this round based on Heron Island. Master Reef Guides are recognised as the world's leading reef guides, interpreters and story tellers, sharing the wonders of the Great Barrier Reef World Heritage Area. These reef ambassadors provide up to date information on the reef, share stories of the magical World Heritage Area and explain what guests can do to make a difference.
The Master Reef Guide program is delivered by the Great Barrier Reef Marine Park Authority, Association of Marine Park Tourism Operators and Tourism and Events Queensland, and is the first of its kind for the reef.
Ocean Rafting is also currently part of the Australian Government and Great Barrier Reef Marine Park Authority's 'Tourism Industry Activation and Reef Protection Initiative', the Australian Government's $1 billon COVID-19 Relief and Recovery Fund to support regions, communities and industry sectors severely affected by the Coronavirus crisis.
Aimed at repurposing the vessels and crew of high standard tourism operators throughout the Great Barrier Reef Marine Park, as part of the project, Ocean Rafting's passionate team of Master Reef Guides, Marine Biologists and Eco-Hosts have engaged in various activities, including the completion of over 200 'Eye on the Reef' surveys, contributing live data to the Marine Park authorities and scientists.  Other activities have included the contribution of over 100 sightings to the network, studying and cleaning several local beaches from marine plastics and debris, engaging and educating the local community, as well as monitoring and removing several threat species, such as coral eating pests like Drupella snails and Crown of Thorn Starfish.
In the past year, Ocean Rafting has also launched the Whitsundays' first Edu-Tourism project, 'Reef Seeker', a citizen science product built around the Eye On The Reef program. Since launching the program after the COVID shutdown, Ocean Rafting has welcomed many student groups, a market that Ocean Rafting has been proactive in for many years, who have opted for the Reef Seeker program as part of their Ocean Rafting tour.
The Ocean Rafting team is also heavily involved in a plethora of other environmental initiatives, including partnering with Parley Of The Oceans, conducting scheduled clean up events and collecting over 3 tonnes of debris, as well as Reef Check Australia, hosting a Reef Clean beach and underwater clean up at Luncheon Bay.
Ocean Rafting is also involved in the Whitsunday Reef Restoration Project with Ocean Rafting crew volunteering in providing regular updates to the facilitators at Reef Ecologic on the heath and status of nearly 2000 coral fragments set to be planted on the reef.
To coincide with the coral spawning, Ocean Rafting crew also assisted with coral re-seeding to control the reproductive period for coral and with the hope to aid growth in Blue Pearl Bay. This was able to be conducted around normal operations with night driving and towing, reflecting the flexibility available with a fleet of eight vessels and experienced staff.
Ocean Rafting is also part of Reef Catchments' Whitsunday Water Quality Monitoring Blueprint for Tourism Operators project, aiming to increase understanding of water quality and reef health in the Whitsundays.
"As an Advanced Ecotourism operator, undertaking all of these activities not only helps us in our duty to protect the Great Barrier Reef, but also allows us to further educate and inspire our guests, ensuring they leave the Whitsundays with a deeper understanding of the importance of protecting the reef. All of the initiatives we conduct has allowed our team to deepen their knowledge, understanding, love and respect for the magnificent Great Barrier Reef, in order to continue to conserve and protect this World Heritage Listed wonder," said James. Ocean Rafting is recognised as a High Standard Tourism Operator by the Great Barrier Reef Marine Park Authority and has been inducted into the coveted Ecotourism Australia Hall of Fame for being continuously certified for 20 years or longer, being the only operator in the Whitsundays with this recognition.