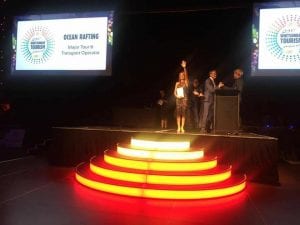 Ocean Rafting enjoyed success on Saturday night at the glamorous Whitsunday Tourism Awards held on Hamilton Island. Ocean Rafting scored two gongs, taking home the gold award for the Major Tour and Transport Operator category, as well as bronze in the Adventure Tourism category.
Ocean Rafting owner Jan Claxton, was ecstatic to receive both awards which was proudly shared with a large contingent of staff on the night.
"In what has been a challenging year for everyone, it was wonderful to see the tourism industry coming together to celebrate the industry's night of nights.  We invited most of our staff to enjoy the evening as we are so incredibly proud of them and their contribution to the ongoing success of the business," said Jan.
Ocean Rafting saw the arrival of a sixth custom built vessel this year and has since submitted an order for a seventh vessel due in the near future.
"Winning the Major Tour and Transport category for the second year in a row is a significant achievement for us and can be attributed to our ongoing growth and commitment to delivering exceptional tourism experiences in the Whitsunday region," said Jan.
"Of course we would like to thank everyone who supports us, including local agents, industry partners and our guests and also extend a big congratulations to all the other winners on the night," said Jan.
Ocean Rafting was a winner in the same category at the 2016 Australian, Queensland and Whitsunday Tourism Awards and is once again an entrant in two categories at the upcoming 2017 Queensland Tourism Awards.