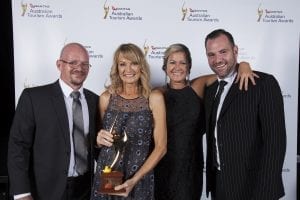 Ocean Rafting achieved national success at the Australian Tourism Awards in Darwin on Friday night, winning the award for Major Tour and Transport Operator.
Owners Peter and Jan Claxton were ecstatic with their success on the evening. "It really is very special to have won at the Australian Tourism Awards on a national level, especially in the "Major" category.  We've built two new custom made vessels in the past two years to bring the fleet to six, so it has been a big period of growth operationally. We really want to thank our staff, who do an amazing job day in and day out and have contributed to the overall success and reputation of the business.  We can't fail to also thank all of our guests, agents and industry partners. We are so incredibly proud of this award as we work so hard to always improve the operation and to invest in the business, and will continue to do so.  It makes it so much easier to market our destination when you have an accolade like that," said Jan.
Peter and Jan were also quick to point out that they are extremely proud to be based in the Whitsundays. "We operate in the one of the most beautiful places in the world, the Whitsundays, and have the opportunity to showcase one of Australia's most iconic beaches, Whitehaven Beach and Hill Inlet, on a daily basis," Jan said.
Jan continued, "We also want to congratulate BIG4 Adventure Whitsunday for taking out silver, as well as Pinnacles Resort and Cruise Whitsundays for representing the region.  To have four Whitsunday operators there on a national level is a huge achievement."
Peter and Jan have owned Ocean Rafting since 2001 and have since built the fleet up to six vessels, as well as establishing a sister operation in Cape Tribulation, Ocean Safari.  Each vessel takes a maximum of 25 to 32 passengers, with small groups allowing guests to experience tropical paradise away from the crowds.
Ocean Rafting operates two exciting day tour options to some of the Whitsunday's most desirable destinations. The Northern Exposure and Southern Lights tours are both fully guided and include an exhilarating ride to Whitehaven Beach, pristine snorkelling reefs and guided Whitsunday Island National Parks walks.  Ocean Rafting is the only tour to have direct access to the stunning and iconic Hill Inlet beach and special snorkel sites at Hook Island and Border Island ensure a memorable underwater experience.