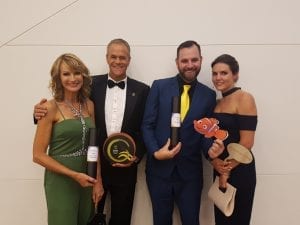 Whitsunday tour operator, Ocean Rafting, won gold at the Queensland Tourism Awards 2017 in Brisbane on Friday night, winning the award for Major Tour and Transport Operator. The win follows recent success at the Whitsunday Tourism Awards, where Ocean Rafting won gold in the same category. The team also took home the Bronze award in the Adventure Tourism category and sister company, Ocean Safari, based in Cape Tribulation, came home with a silver award in the Tour and Transport Operator category.
Owners Peter and Jan Claxton attended the Queensland Tourism Awards 2017 ceremony and spoke proudly of their achievements in the three different categories. "It is extremely rewarding and we are full of pride for our teams in both the Whitsundays and Cape Tribulation.  Both businesses offer such unique experiences for guests and they are constantly evolving and growing. Our staff play such a big part in all of this and absolutely love what they do and the beautiful natural playgrounds they visit every day," said Ms Claxton.
"What started off as a challenging year, given the impacts of Cyclone Debbie, it was wonderful for the Whitsundays as a region do so well on a State level and we pass on our congratulations to all the other winners."
It has been another big year of growth for Ocean Rafting, with the arrival of a sixth vessel, the order of a seventh vessel and the company's recent 20th birthday celebrations in October.
"Twenty years of operation was a huge milestone for us, which we enjoyed celebrating with industry partners.  We are so proud of our team and thank everyone for supporting Ocean Rafting over the years," said Ms Claxton.
This is the second consecutive year in a row Ocean Rafting has won the Major Tour and Transport Operator category at a Queensland level and also won gold at the last year's Australian Tourism Awards in the same category. Ocean Rafting will once again be automatically entered in the upcoming Australian Tourism Awards due to be held in Perth early next year.
Ocean Rafting operates a fleet of six vessels and two exciting day tour options to some of the Whitsunday's most desirable destinations, including Whitehaven Beach and Hill Inlet.