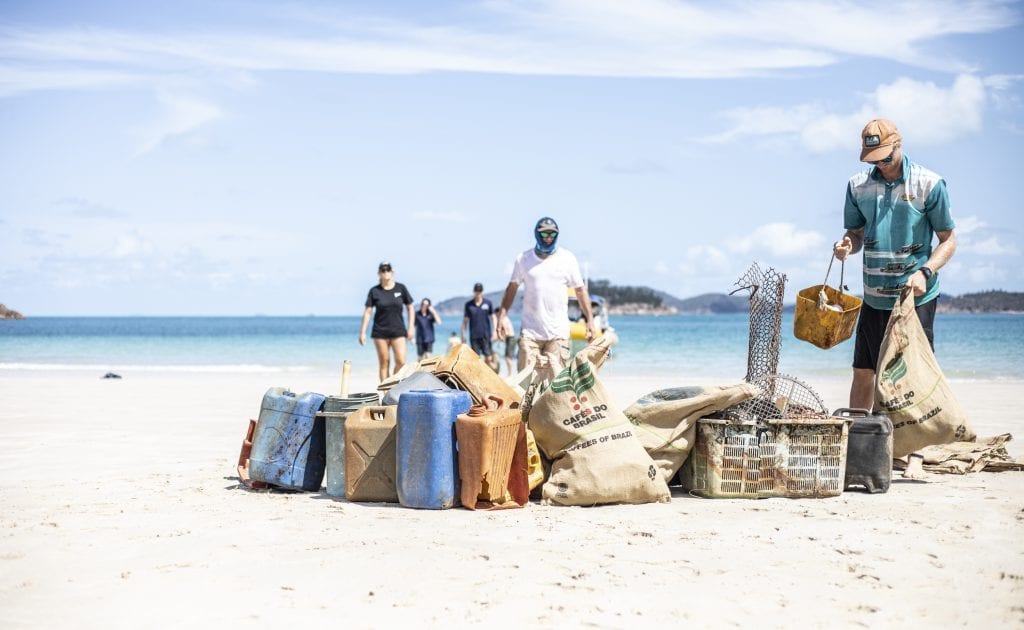 Ocean conservation group Parley For The Oceans and Whitsunday Tour Operator, Ocean Rafting, collected over 800kg of washed-up marine debris from what seemed to be clean beaches on the central and southern island of the Whitsundays.
Fuel drums, fishing rope, bleach bottles, toothbrushes and bottle caps were the most common items found during a marine debris interception event organised by Parley Australia, and eco tour operator Ocean Rafting.
The collaboration team focused on islands that are harder to access for locals and smaller boat operations and that are especially exposed to the south-easterly winds.
"Seeing all this rubbish piled on the back of our boat and knowing it no longer harms these fragile ecosystems on and around the islands makes me incredibly happy and proud", said Cole Claxton, Project Manager, Ocean Rafting. "At the same time, it makes me sad to think what would happen if we didn't get in there and remove these harmful materials", he adds.
Over two days, 20 volunteers and staff went to some of the most untouched islands of the Whitsundays, only to find that the islands were not so untouched after all.
"The beaches looked clean at first sight. But when we looked beyond the high tide line, into the vegetation and especially along the creek beds, plastic was everywhere", said Christian Miller, director of Parley Australia. "It is devastating to see that even an iconic and well-looked after place like the Whitsundays isn't spared the effects of our global plastic epidemic".
It is understood that the southern equatorial current carries marine debris from South America, South-East Asia and foreign cargo ships in the waters in between, down along the eastern coast of Australia. Tradewinds catch the current and push the debris across to the islands and coastlines of the Australian east coast.
The group collected 600kg off only 1km of coastline on Shaw Island and 200kg off four beaches of Haslewood Island. The group also stopped by at Whitehaven Beach to confirm that it was the cleanest of them all. This can be attributed to the decade-long efforts by Eco Barge Clean Seas, who are regularly collecting marine debris from the beaches of the Whitsundays.
"It becomes obvious that the further we go from popular tourist spots, the more marine pollution we see. Therefore, our message can't be clearer: just because we can't see the pollution on our favourite beaches doesn't mean we can ignore the problem. The pollution is where our ecosystems should be most undisturbed", said Maren Eibner, Co-Director of Parley Australia. "This is not a local problem, it's a global one".
The group's most surprising find was a traditional Indonesian spearfishing fin, hand-made from an old plastic drum, clearly indicating its long journey across the Indo-Pacific Ocean.
The group also found countless foreign bleach bottles, which are specifically used in the waters of Papua New Guinea and Indonesia to stun and live-catch fish, harming corals and other organisms with the aggressive chemical sodium hypochlorite.
"We couldn't do what we are doing globally without the help of other not-for-profits like Eco Barge Clean Seas, environmentally conscious businesses like Ocean Rafting and the heroic efforts of volunteers. Bit by bit we are creating a voice for the oceans. One collaboration at a time", Mr Miller says. "I know one day we will look back and say 'we did it'".
Asked how people can get involved in the movement, Mr Miller responds: "Pick your own battle and challenge yourself. Select an item in your daily life that you know isn't good for the environment and cut it out, compliment businesses that support this movement, and speak up when you find unnecessary packaging and single use plastics. Organise your own beach cleanup in your community. Engage your kids and teach them the importance of our oceans. The actions we can take are manifold".
About
Parley Australia
Parley is the space where creators, thinkers and leaders come together to raise awareness for the beauty and fragility of our oceans and collaborate on projects that can end their destruction.
We believe the power for change lies in the hands of the consumer – given we all have a choice – and the power to shape this new consumer mindset lies in the hands of the creative industries.
To succeed, we need to find ways to synchronise the economic system of humankind with the ecosystem of nature. And make environmental protection fiscally lucrative for pacesetting major companies.
Ocean Rafting
Ocean Rafting offers two exciting day tour adventures, the Northern Exposure and Southern Lights, as well as a range of unique packages, with each tour offering an exhilarating ride to Whitehaven Beach, pristine snorkelling reefs and guided National Parks walks. Ocean Rafting offers the ultimate access to Hill Inlet and special snorkelling sites ensure a memorable underwater experience. Rated in the top 10 experiences in Australia on TripAdvisor and as a multi Australia Tourism Award winner, Ocean Rafting offers personalised service while exploring amazing Whitsunday destinations.
Ocean Rafting has Advanced Ecotourism Certification and is a Green Travel Leader and a Climate Change Innovator. This year Ocean Rafting was entered into the coveted Ecotourism Australia Hall of Fame for being continuously certified for 20 years or longer. There are only 14 operators Australia-wide who have been acknowledged with this achievement, with Ocean Rafting being the only one in the Whitsundays.