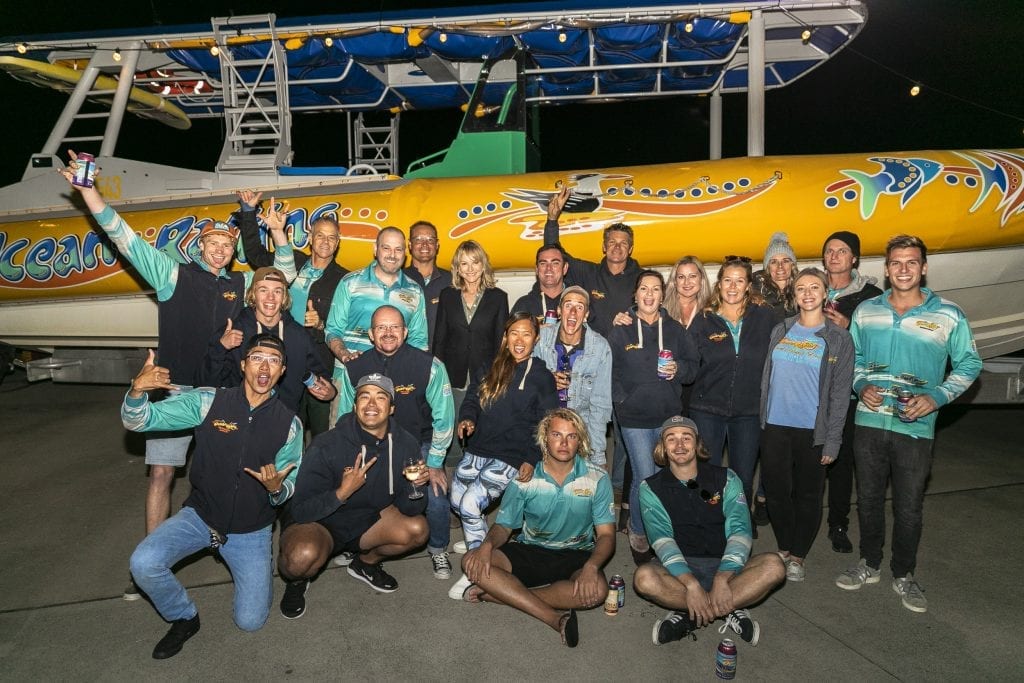 Last night was a night for the Whitsunday tourism industry to come together at Whitsunday Airport as local tourism operator, Ocean Rafting, celebrated one year of operating their popular 'Fly and Raft' package.
Nearly 200 invited guests, including local agents, suppliers, industry partners and Whitsunday Shire Mayor, Andrew Wilcox, joined the Ocean Rafting team for live local music, a delicious menu catered by the Hangar Bar, prizes and surprise entertainment including a Yak52 fly-by, a Soviet Air Force Training aeroplane, operated by CQ Adventure Flights.
Held at Ocean Rafting's flight base at Whitsunday Airport /Whitsunday Aviation Village Estate (WAVE) near Shute Harbour, the airport is Australia's premier airpark, just minutes from the heart of Airlie Beach.  This is one of many reasons why Ocean Rafting's foray into offering scenic flights in conjunction with its multi award-winning marine operations, has been such a great success.
Ocean Rafting owners, Peter and Jan Claxton, who hosted the evening along with their staff and Whitsunday Airport, are proud to offer another exciting product which offers the best views of the Whitsundays, both on and above the water.
"We have been so grateful for the support from guests, agents and our industry partners in offering these exciting new products. Collaborating with our aviation partners, in providing the most accessible flights at the closest airport to Airlie Beach, means both our Fly and Raft package and stand-alone scenic flights have proven to be the perfect extension to our existing tours. Tonight was a celebration to thank everyone for all of their continuous support for both our water and flight based operations," said Jan.
Ocean Rafting's Fly and Raft package showcases the best of the Whitsunday Islands and Great Barrier Reef in one day with a stunning 60 minute Whitsunday scenic flight and Ocean Rafting adventure, experiencing the Whitsundays' ultimate destinations including Heart Reef, Whitehaven Beach, Hill Inlet lookout and the swirling sands of Hill Inlet beaches, as well as secret snorkelling locations.
Guests have a bird's eye view of many of the 74 Whitsunday Islands, flying over Whitehaven Beach and picture postcard Hill Inlet before heading out to the Great Barrier Reef and experiencing one of the most photographed reef locations, Heart Reef. The comfortable fixed wing aircraft offers big window viewing, pilot commentary and the best views of the Whitsundays.
Following the flight, the adventure continues with an Ocean Rafting tour offering three days in one, including an exhilarating ride to Whitehaven Beach and Hill Inlet, pristine snorkelling reefs and guided Whitsunday Island National Parks walks. The Southern Lights tour offers more beach time and the Northern Exposure tour offers more snorkelling time.
60 minute stand-alone scenic flights over the Whitsunday Islands and Great Barrier Reef, including Heart Reef, Whitehaven Beach and Hill Inlet are also available three times daily.
"With the ongoing growth of the company it was time for us to diversify the product and with the background in aviation we have from originally owning a seaplane company in South Africa to piloting seaplanes for Air Whitsunday, it feels like we have come full circle and it's a natural progression in offering this product under the Ocean Rafting brand," said Peter.
Now in its 22nd year of operations, Ocean Rafting has won three Australian Tourism Awards, as well as multiple Queensland and Whitsunday Tourism Awards. This week Ocean Rafting was also recognised as one of the top ten tourism experiences in Australia on TripAdvisor in the 2019 Travellers' Choice Awards.