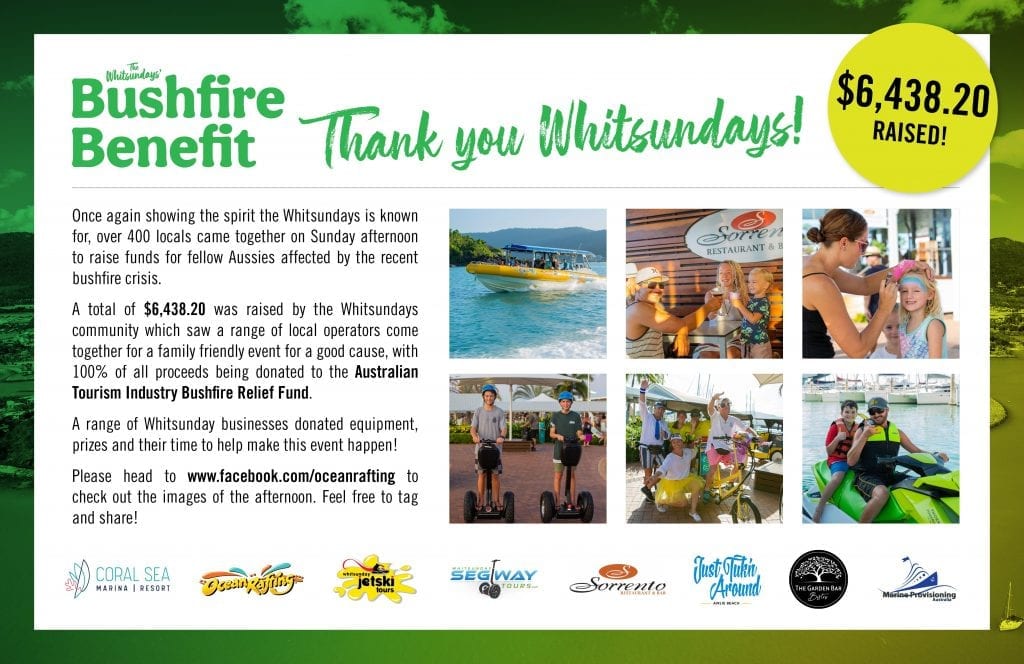 Once again showing the spirit the Whitsundays is known for, over 400 locals came together on Sunday afternoon to raise funds for fellow Aussies affected by the recent bushfire crisis. Light winds, a sunny sky and a stunning sunset provided the perfect backdrop for the "Whitsundays' Bushfire Benefit" charity event held at Coral Sea Marina.
A total of $6,438.20 was raised by the Whitsundays community which saw a range of local operators come together for a family friendly event for a good cause, with 100% of all proceeds being donated to the Australian Tourism Industry Bushfire Relief Fund. With rides starting from $5 per adult and $3 per child, locals and tourists alike were able to enjoy a taste of some of the Whitsundays' favourite activities including exhilarating joyrides with Ocean Rafting, a spin off shore with Whitsunday Jetski Tours, a glide around the marina with Whitsunday Segway Tours or a pedicab through the streets with Just Tukin' Around.
Guests had a choice of venues to enjoy the atmosphere with a bite to eat and a drink or two, with a BBQ fired up by Coral Sea Marina, a special "Bushfire Benefit Cocktail" on offer at Sorrento Restaurant & Bar, a discounted menu at Garden Bar Bistro, delicious platters by Marine Provisioning Australia and a cool evening drink from The Kiosk Café.
Live music played until 7.30pm with local musicians Kaylee West, Jack McCabe and Tim Eastwood donating their talent and time to provide the perfect laid back atmosphere. Whitsundays Rocks held painting workshops and children delighted in face painting provided by Colourful Faces.
A range of other Whitsunday businesses donated their equipment and time to the Whitsundays' Bushfire Benefit including Whitsunday Party Hire who provided high bars, Rewards Distribution donated the plates and cutlery and Whitsunday Audio Visual supplied the PA equipment.
Over 750 raffle tickets were sold on the night, with prizes donated by local businesses including Ocean Rafting, Skydive Australia, Heli Biz, A-One Fishing Charters, Sundowner Cruises, Shingley Beach Resort, Hangar Bar and Café, Sorrento Restaurant and Bar, Garden Bar and Bistro and Northerlies Bar and Grill.
Ocean Rafting owner, Jan Claxton, whose team was responsible for the conception and organisation of the event in a period of just two weeks, expressed her gratitude to the local community and all the local businesses involved.
"From the 24 businesses involved in this event who all donated their time, services, equipment and product offerings, as well as everyone's staff, we extend a very big thank you to the local community who all came down and enjoyed this event, while at the heart of it, dug deep to support our friends down south affected by the bushfire crisis. The Whitsundays were tested with Cyclone Debbie nearly three years ago and the rest of Australia helped out in many ways, including visiting the Whitsundays the following year, many of them from these regions affected, so we really wanted to reach out and support our fellow Australians as a community," said Mrs Claxton.
Whitsunday Jetski Tours owner, Toni, Ward, said "It makes me so proud to be a Whitsunday local when I see an event like this come together. It was a great afternoon and a great vibe all round with lots of people having fun, while coming together for a good cause. We are so happy we were able to be a part of it all."
Zak Kelly, owner of Whitsunday Segway Tours, continued "As a born and bred Whitsunday local it was so humbling to see our community doing the Australian thing in supporting our friends down south. It was great to see so many people including locals, tourists and families have an afternoon out enjoying the many experiences the Whitsundays offer."
After recently purchasing Just Tukin' Around and moving to the Whitsundays, Marty and Brooke Mosley, enjoyed their first big Whitsunday community event. "Wow, to see the community spirit is such a wonderful impression of this beautiful place we have moved to and invested in. We loved working with everyone on this charity event and so pleased we were collaboratively able to raise these funds for those in need," said Mr Mosley.
Whitsunday local, Tanya Cran, was one of the many who attended the event with her family and friends. "Our kids enjoyed all the activities on offer, doing more than one ride I must say. We wanted to come down for an afternoon out with our family and friends but it was just as important to support this event. Everyone's small contribution will hopefully make a big difference for our friends down south. We saw some of the worst of it when we were holidaying over Christmas and had to evacuate. We left feeling so sad and helpless for those poor people so we will help in any way we can and our kids feel very strongly about it as well," said Mrs Cran.
All proceeds from the Whitsundays' Bushfire Benefit will be donated to the Australian Tourism Industry Bushfire Relief Fund within the next few days and anyone else who would like to donate can visit: https://fundraise.redcross.org.au/fundraisers/AustralianTravelIndustrysBushfireReliefFund/fundraise-for-disaster-relief-and-recovery