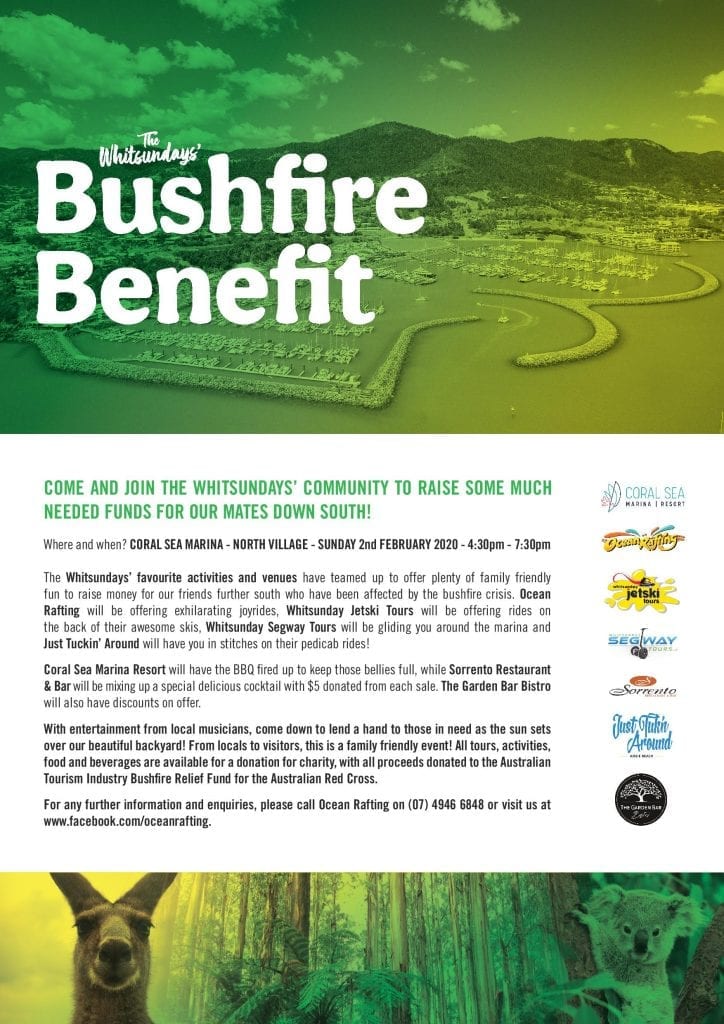 Come and join the Whitsundays' community to raise some much needed funds for our mates down south at our Whitsundays' Bushfire Benefit!
WHEN: Sunday 2nd February 2020
TIME: 4:30pm – 7:30pm
WHERE: Coral Sea Marina North Village
Some of the Whitsundays' favourite activities and venues have teamed up to offer plenty of family friendly fun to raise money for our friends further south who have been affected by the bushfire crisis.
• Ocean Rafting will be offering exhilarating joyrides and spins.
• Whitsunday Jetski Tours will be offering rides on the back of their awesome skis.
• Whitsunday Segway Tours will be gliding you around the marina.
• Just Tuckin' Around will have you in stitches on their pedicab rides!
• Coral Sea Marina will have the BBQ fired up to keep those bellies full.
• Sorrento Restaurant & Bar will be mixing up a special delicious cocktail, "The BBC" (Bushfire Benefit Cocktail), with $5 per cocktail sold being donated.
• Garden Bar will be handing out discount cards on the night as well.
• Raffles and giveaways all night!
All tours, activities, raffles, food and beverages are being donated and we are asking for a donation for charity. All proceeds will be donated to the Australian Tourism Industry Bushfire Relief Fund for the Australian Red Cross.
With entertainment from local musicians, come down to lend a hand to those in need as the sun sets over our beautiful backyard! From locals to visitors, this is a family friendly and 4 legged friend event!
We look forward to seeing you there! For more information visit the Whitsundays' Bushfire Benefit Facebook Event page here.