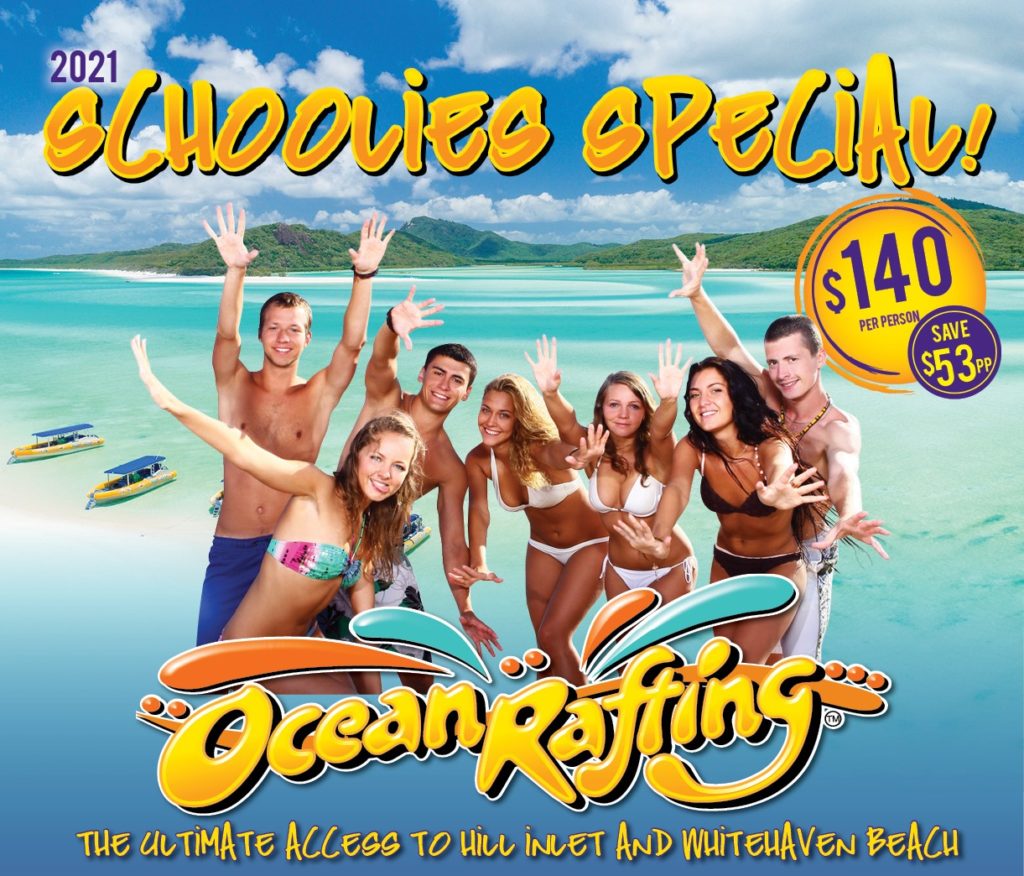 Add to your Schoolies 2021 fun by enjoying the ultimate ride to Whitehaven Beach and Hill Inlet with multi award winning Ocean Rafting! Ocean Rafting visits the "Wild Side" of the Whitsunday Islands, the uninhabited islands with beautiful natural scenery brimming with marine, bird and animal life.
Experience Ocean Rafting's signature adrenalin fuelled action while exploring the islands, inlets and beaches on custom built semi-rigid inflatable vessels, travelling at speeds of up to 30 knots. The vessels are up to 12 metre semi-rigid inflatable vessels, originally designed and built as rescue crafts and are driven by 700hp engines, allowing you to experience a fun, high speed ride amongst the natural beauty of the Whitsundays.
There are two exciting tour options, the Northern Exposure and Southern Lights. Each Ocean Rafting day offers three days in one, including an exhilarating ride to Whitehaven Beach and Hill Inlet, pristine snorkelling reefs and guided Whitsunday Island National Parks walks. Ocean Rafting offers the ultimate access to the stunning and iconic Hill Inlet beach and special snorkel sites at Hook Island and Border Island ensure a memorable underwater experience.
The main difference between the two tours is that the Northern Exposure has more snorkelling time and the Southern Lights offers more beach time.
A visit to Hill Inlet, Whitehaven Beach and snorkelling pristine coral reefs all in one day, along with the "ride of your life", allows for a very special adventure!
ONLY $140 per person* (saving of $53 per person!) including tropical lunch pack and sunsuit/wetsuit.
Phone 07 4946 6848 for bookings or book with your local tour desk or accommodation house. Bookings cannot be made online.
Valid for travel between Friday 19th November to Saturday 11th December 2021. Must have valid 2021 School ID to receive this special. Standard terms and conditions apply.